Have you noticed that more and more people are currently investing in standing s in the market and what are the benefits of investing in standing desks? Maybe you don't have a deep understanding of standing desks. But you may have heard the phrase: "Sitting is the new smoking!" "Sitting is a silent killer!" "Are you sitting your way to the grave?" The accusations of a sedentary lifestyle are piling up. Prolonged sitting is associated with chronic disease and wreaks havoc on your spine.
We've all been there, bent over a computer typing, our backs aching, our shoulders hunched, and the minutes ticking by. If you've ever been in this position, you're likely wondering about the benefits of standing while working. That's because our bodies are designed for the stress and physical activity of standing. Sitting for long periods of time increases the stress on your back, back muscles and spinal discs. This poor sitting habit can damage the structure of your spine and often lead to back and neck pain. Sitting for too long with poor posture increases the stress on the bones in your neck and lower back. Slouching looks even worse. Also, holding any static position for too long reduces the elasticity of soft tissues such as muscles, ligaments and tendons, and increases stress on the back. All of this can exacerbate any pre-existing back problems.
The Negative Effects Of Sitting
The average person spends more than 6 hours a day sitting. It's nature. Many of us go from sleeping in bed to sitting at our desks with very little movement in between. However, this lifestyle brings with it some alarming statistics.
According to a 2012 U.S. National Health and Nutrition Examination Survey study, as many as 70 percent of people spend six or more hours a day sitting. Whether it's sending countless emails at work, lazing in front of the TV or spending a lot of waking hours sitting during the daily commute – the implications of this level of inactivity are grim.
A 2015 report published in the Annals of Internal Medicine found that prolonged sitting was associated with an increased risk of death from all causes, even among those who exercise regularly.
In addition, Sitting for too long has been shown to increase the risks of:
Obesity
Diabetes
Cardiovascular issues
Colon and others
Physical Effects Of Sedentary
After a long day at your desk, do you still feel as refreshed as you did when you arrived at the office in the morning? The answer is most likely no.
According to a study in the American Journal of Public Health, data collected from 7,757 workers interviewed in the 1998 Quebec Health and Social Survey suggest that the effects of specific sitting positions on cartilage, muscles and the cardiovascular system may help explain discomfort in the lower extremities.
Being in a seated position for most of the day can cause soreness, stiffness and pain in your spine. This is because sitting for a long time, although it may be relaxing, also puts pressure on the muscles and discs in your back and neck. A sedentary position causes your hip flexors to produce tightness in the iliopsoas muscles. In addition, the gluteal muscles are an important support point for the spine, but restricted blood flow can lead to stress and some ischemia in the gluteus maximus.
"Bad Posture Syndrome"
Sedentary can lead to "bad posture syndrome". The longer you sit, the more likely it is that your posture will naturally slip. Slouching can cause spinal ligaments to stretch beyond their healthy limits, and poor posture can strain your discs. This can lead to increased pressure on the outer annulus of the disc and can increase disc bulge and disc pressure. In addition, while sitting, we often work on the computer or write at our desks, and our heads will unconsciously tilt forward, resulting in a rounded shoulder posture.
Being glued to the office chair all day may lead to episodes of back or neck pain and soreness. Over time, this can lead to serious problems with your spine. Sitting for long periods of time on a regular basis can accelerate the wear and tear on your discs, accompanied by daily neck and back pain.
Solutions
While being tied to a computer all day may be inevitable, you can inject more activity into your day, whether by maintaining proper posture or investing in a sit-stand desk. Because good health will automatically improve the quality of your work. However, unhealthy work posture will reduce the quality of your work. There is no doubt that maintaining proper posture all the time is not easy. Therefore, many companies have acquired standing desks for their employees to keep them healthy at work.
Standing Desk Ergonomics: Get the Position Right
The term ergonomics is often associated with office furniture and computer equipment. Designers create equipment to conform comfortably to the shape of the human body. Today's office furniture manufacturers have cleverly combined biotechnology and design engineering to produce professional ergonomic office equipment that can help you have better posture while working.
While a standing desk is not the answer to eliminating all lower back pain, it can do all of the following for you:
Increase alertness
Promote productivity
Improve postural strength
Relieve back pain
Stretch tight muscles
Standing desks can strengthen and improve many lower back problems
How does standing relieve your muscle pain?
Standing can improve your posture and reduce the stress on your lower spine. A standing desk can help avoid that telltale lower back pain you get after a long day at work.
Here Are The Ergonomic Setup Criteria To Avoid Back Pain At Work
Elbow Measurement
Sit as close to your desk as possible, keeping your upper arms parallel to your spine. Make sure your hands are on the desk, keeping your elbows at 90 degrees.
Thigh Measurement
Measure by checking the distance from the front edge of your chair to your thighs. If the space is more than a finger's width, elevate your desk and chair so that you can sit comfortably.
Calf Measurement
Pass your palm in a fist between the back of your calf and the front of the chair. If you can't do this easily, adjust your chair.
Lumbar Support
Rest your lower back against the back of the chair. You can use a cushion that prohibits you from leaning forward. This sitting position will reduce the pressure on your back. It also prevents the extra pressure on your spine when you hunch over the keyboard.
Eyes Flat
The top of the computer screen must be at eye level with your eyes. Make sure you can see your computer screen comfortably without having to tilt your head.
Armrests
Armrests lift your arms slightly and can reduce the pressure on your neck and shoulders.
Give It A Go
If you're curious about standing desks, give them a try.
A little more standing time each day will give your back a break and work to improve your posture.
Here we recommend a few of our popular height adjustable desk products
Dual Motor Standing Desk
AK2YJKT-TYZB3K is a dual motor standing desk that can be assembled quickly. There is a serious problem with the conventional model of dual motor standing desk in the market, customers need to assemble the parts by themselves, and the steps of assembly are complicated. In order to solve this problem, AOKE has innovated and optimized the standing desk from the table frame structure. Our this dual motor standing desk only needs a simple handle to fix the lift column and cross beam, and use 1 screw to fix the lift column and the feet. This makes the installation and disassembly very easy for customers, even if they have never operated it before.
Double-Motor Standing Desk Without Beam
AK2WHL-TYZB3 is a semi-quick assembly type dual motor standing desk without beam. Compared to the conventional model with dual motors, this table frame can be assembled and disassembled without the use of screws to install the beam, just install the handle and a few screws to complete the installation of the entire table frame. And the installation process does not require repeated turning of the table, because we have already fixed the beam, table board and control box before delivery. This makes installation and disassembly much easier and faster for our customers.
High-Speed Double-Motor Standing Desk
AK2YJYT-TYZB2P-M02 is a speed-up standing desk. We have innovated the parameters of this fast lifting table stand based on the lifting screw of the conventional model, and changed the transmission mechanism and power system, which makes the table stand more fast in the process of lifting.
Electric Desk Converter
To meet the demands of those searching for the functionality of a standing desk, without changing their current setup, we found the perfect answer: standing desk converters.
Our AK-MR-E07 Electric Desk Converter contains an electric, motorized lifting system and can carry up to 20KG. You can adjust the height by simply pressing the touch screen handset mounted on the top right of the surface. This model has a stroke of 140-440mm. A fraction of what you would pay for a standing desk!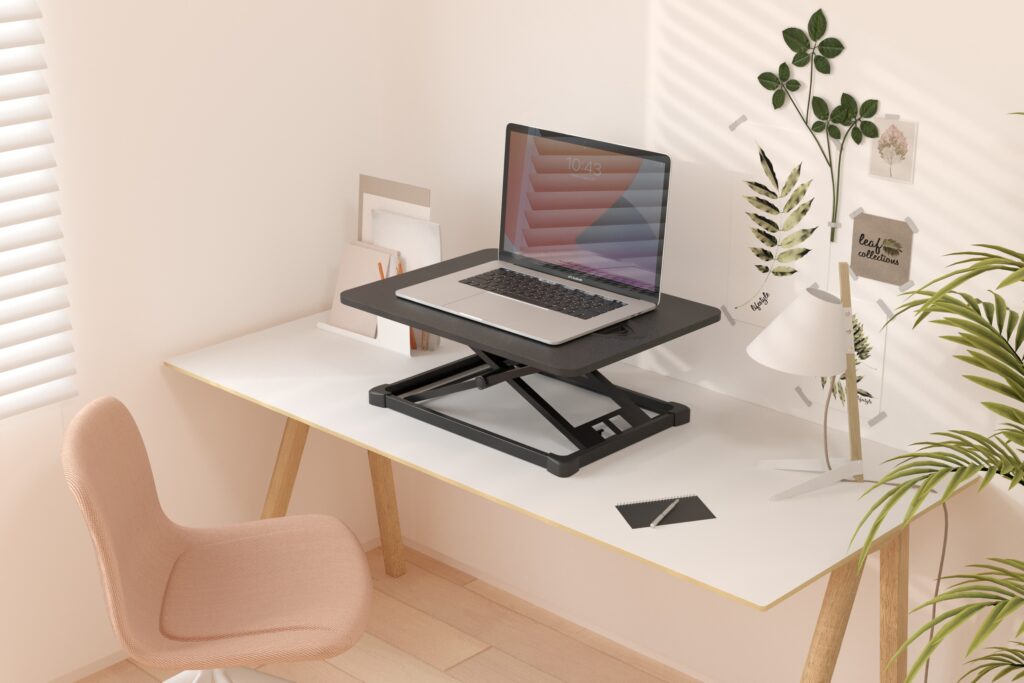 Multimedia Standing Desk
Our AK-GT09-YZB2-S touch desk includes everything you need. This standing desk ranges from having responsive touch buttons that can be used to control lift and music playback to having both storage and fingerprint unlock protection. This multimedia lift desk can also connect to any Bluetooth-enabled device.
Why We Are Your First Choice
AOKE is a global designer and manufacturer of linear actuators, lifting columns, height adjustable desk and other ergonomic accessories.
AOKE can provide you with professional, localized engineering solutions for a variety of work scenario projects around the world. We offer ODM/OEM customized B2B product solutions to meet your B2B business order requirements, including office workspace design projects, commercial supermarket retail projects, institutional bidding projects and other office furniture distribution projects.
In addition, we have a team of innovative R&D engineers who imagine, design and implement ergonomic workplace furniture solutions. Since the establishment of AOKE in 2012, we have obtained CE, UL962, BIFMA, FCC, ROHS, EN527, EMC, CAS, SAA, CB, PSE, GECA and other certifications and compliance.
Headquartered in the beautiful coastal city of Ningbo, one of China's major import/export ports. Aoke has over 710,000 square feet of plant, AOKE quotes the highest end production equipment such as laser-cutters , robotic welders, automatic CNC bending machines, automatic punches, automated powder coating paint lines, and a cutting edge inspection laboratory. Sophisticated manufacturing instruments and strict control of industrial processes ensure high quality products are provided to our customers.
Our goal is to end unhealthy work environments forever, whether in the office or at home. Get people moving, minds engaged, and energy flowing. Everything we design and sell, and everything we use ourselves every day, is designed to bring health, safety, well-being, happiness and productivity.
In addition, regardless of which standing desk converter you choose; you are guaranteed quality and durability. Some of our products come with a 5 year warranty and you will have unwavering support from our sales support team.
If you are experiencing lower back pain, we hope this blog will give you some perspective. If you have any further questions or need about the lift table, please contact us
Phone:+86 574 88193751
Email: Alice@aokefurniture.com
Other Suggestions
To live a healthy life you must develop good habits. Here are my actionable suggestions for you.
First, stay well hydrated
The easiest thing you can do is to buy a water bottle and keep it nearby.
Second, tweak your system to promote physical activity
Reduce driving. Switch from traveling by car to biking. If the distance is too far, then use public transportation in between, but still bike to and from the station.
Third, experiment for yourself
The best way to get answers is through self-experimentation. From my self-experimentation, I decided to continue using a standing desk because it has been so effective in correcting my poor posture and relieving my back pain.
Work more efficiently, live more healthily!