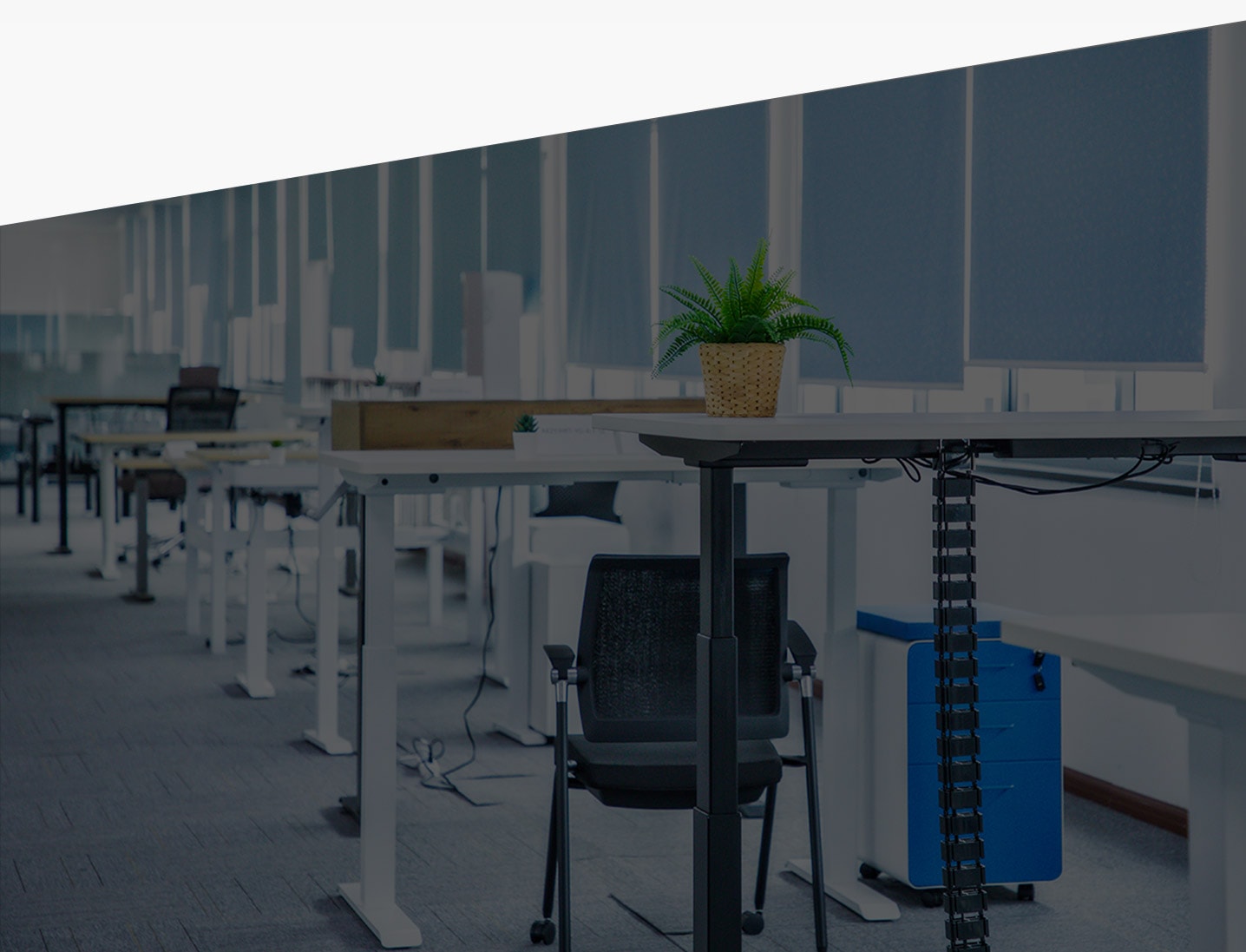 AOKE is a global designer and manufacturer of linear actuators, lifting columns, height adjustable desks, mobile pedestals and other ergonomic accessories. We have been producing high quality products since 2012.

With over 710,000 sq.ft. of factory space, we use high-end production equipment such as laser-cutters , robotic welders, automatic CNC bending machines, automatic punches, automated powder coating paint lines, and a cutting edge inspection laboratory. This investment in precision manufacturing and quality assurance guarantee us high efficiency, and make sure our customers are provided with high quality products.

Our products are manufactured in a safe, efficient, and process-driven manufacturing environment. Aoke enforces strict manufacturing guidelines meeting efficient and high-quality standards. We achieve best-in-class quality and are backed by CE, UL962, BIFMA, FCC, ROHS, EN527, EMC, CAS, SAA, CB, PSE, GECA certifications and compliances.

Backed by an innovative and well trained R&D team, extensive production capacity, and professional sales teams, Aoke empowers customers around the world to enjoy a more health-conscious workspace. With a strict commitment to "Green, Health, and Comfort", AOKE is devoted to supplying high-quality products at competitive prices, together backed by a reputation for high levels of customer service to our clients.

Following our quick expansion, AOKE has included two additional branches, one in the Netherlands and another in Thailand, and a wholly subsidiary in the US to provide a better overall customer experience.
R&D strength

AOKE has a professional R&D group of over 30 Engineers and Technicians focused on designing new ergonomic products to meet our client's needs.

High standard

Aoke is ISO9001: 2019certified. Our products meet appropriate certification requirements needed by our customers such as UL, CE, FCC, etc.

Professional Production

Over 710,000 sq.ft. factory space includes high-end, precision production equipment and cutting-edge quality laboratories to guarantee high productivity complying with the strictest standards.

Exclusive Agent of Timotion

AOKE is the exclusive agent of TiMotion lifting systems in China. TiMotion motors and control systems ensure stable movement, quiet operation, and durability. AOKE offers a 5-year warranty and we have a reputation in the industry of obsessively elevating customer satisfaction.

Efficient Production

With 3 automated assembly lines, 12 laser-cutting machines, 10 robot welding machines, 2 powder coating lines, among other equipment, our mass production capability have reached 70,000 table bases per month.

Localized Engineering Resolution

We provide professional and localized engineering solutions on custom projects to meet customer needs.
AOKE milestone
Established a new modern factory of over 2000 m² for mobile pedestal production

60 new pieces of equipment added and desk production capacity has reached 70,000 sets/month

US warehouse has expanded to over 22,500 ft²

Established US showroom of over 1,500 ft²

Global Sales Revenue surpassed 600 million Yuan

Became cooperative partner of esi

AOKE North-American subsidiary was founded: Global

Became the 1st Company in China passed GECA certification in the industry of adjustable desks

First Attended and been an exhibitor in the National Ergonomics Conference & ErgoExpo 2019, Las Vegas

AOKE's factory area expanded to 45000m²

Become cooperative partner of Staples.

Became cooperative partner of Staples

Attended and been an exhibitor in the Neocon 2018, Chicago

AOKE European branch was founded: AOKE-Europe

AOKE Thailand branch was founded: AOKE Southeast Asia

First cooperation with Bestar

Exhibitor at Neocon, Merchandise Mart, Chicago, Ill.

Attended and been an exhibitor in the Orgatect 2016, Cologne

First Attended and been an exhibitor in the Las Vegas Summer Market 2016, US

AOKE's factory area expanded to 10000m²

Became cooperative partner of Autonomous

Established exclusive strategic cooperation with Timotion

Attended and been an exhibitor in the Neocon 2015, Chicago

First cooperation with Bristol

First cooperation with Rockmart

First cooperation with Ergoelements

Attended and been an exhibitor in the Neocon 2014, Chicago

First cooperation with European

Attended and been an exhibitor in the Neocon 2013, Chicago

Ningbo AOKE Office Equipment Co.Ltd was founded

First Attended and been an exhibitor in the Neocon 2012, Chicago

First Attended and been an exhibitor in the Orgatect 2012, Cologne