Dual-Motor Adjustable Desk
---
Compared with the single-motor table frame, the dual motor standing desk frame can provide more stable height adjustment, better stability, and less noise. Moreover, the load-bearing capacity of the dual motor desk frame is larger than that of the single-motor, which is 120 kg, allowing clients to place more personal items on the desktop.
The desktop of the dual motor sit stand desk frame is more balanced, and more monitors can be placed on the desktop, and a bookshelf or file rack can be placed at the corner of the desk, allowing you to focus more on your work. The three-level telescopic leg design makes it have a wider height adjustment range than ordinary standing desks. Regardless of whether you are short or tall, our dual motor adjustable desk frame can always find a suitable height.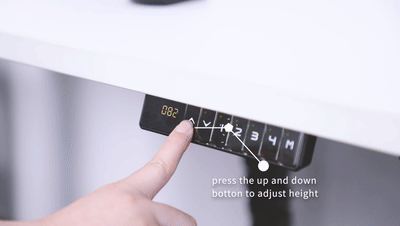 When you want to adjust the height, you only need to press the button and wait quietly. The dual-motor table frame will move steadily at a speed of 40mm/s. The anti-collision mechanism can prevent the table from continuing to move when it touches the top of the object under the table or the bottom of the object over the table, effectively avoiding damage to the property.
If you want to purchase a batch of high-quality electric height adjustable desk frames for your employees, then you can take a look at our dual-motor adjustable tables series. Our dual-motor sit stand table frame is not only stylish in appearance but also equipped with an advanced lifting system, which can quickly and stably adjust the height of the table frame. Improve the working environment and physical health, thereby increasing the work efficiency of employees. Use a fast, quiet, and powerful dual-motor automatic lifting system to raise and lower the table height. The height-adjustable sitting-stand desk workstation allows you to work from a sitting position and change to a standing position at any time.
Aoke is a dual motor standing desk frame manufacturer in China with 10 years of production experience. Choosing Aoke means choosing first-class product quality and secure after-sales service. For the convenience of installation, all of our sitting-stand desk frames are humanized design, the desktop, and the frame are integrated, and the nut is embedded. After customers receive the product, they only need to tighten the screws. If you are interested in our height adjustable desk frames, please send us an inquiry, and our salesperson will reply to you with more detailed product information.
---
LEAVE A MESSAGE
CONTACT US NOW
If you have any questions, please get in touch with us right away. We are ready to assist 24/7. We welcome your cooperation and we will develop with you.
Factory-direct Connectivity Solutions.
High quality, Competitive Price.
Custom-tailored solutions.
Problem-solving approach.