Why are standing desks become increasingly popular? Do you need a standing desk? What are the best standing desks on the market today? If you're curious about these questions, read on.
As the American Journal of Public Health says, being sedentary for more than eight hours a day can increase the risk of chronic disease by 10 to 20 percent and may also lead to premature death. The NHS also points out that being sedentary may also slow down your metabolism, which can affect "the body's ability to regulate blood sugar, blood pressure and break down body fat.
Unfortunately, most of us spend most of our time at work hunched over our desks, which is why a standing desk is a good investment. Even students at school should consider using a standing desk as a healthier way to do their homework.
Standing at a desk while working can help increase energy levels, improve focus and concentration, increase productivity, reduce fatigue and stress, and even strengthen core muscles. One of the most obvious benefits is that it helps to keep you energized throughout the day. In addition, standing can help people reduce stress by keeping them alert. So using a standing desk can also help increase productivity by keeping people focused at work and avoiding conditions such as drowsiness or feeling unwell. Studies have shown that changing one's posture throughout the day can help retain information and improve focus on projects. In addition, movement, as an outlet for creative thinking, can enable you to think more clearly and do higher quality work more effectively.
To help you figure it out which standing desks are worth your money, we've handpicked eleven top-rated options to meet each person's different preferences and needs. Here are our final picks for standing desks, and they are among the absolute best desks you can buy online right now.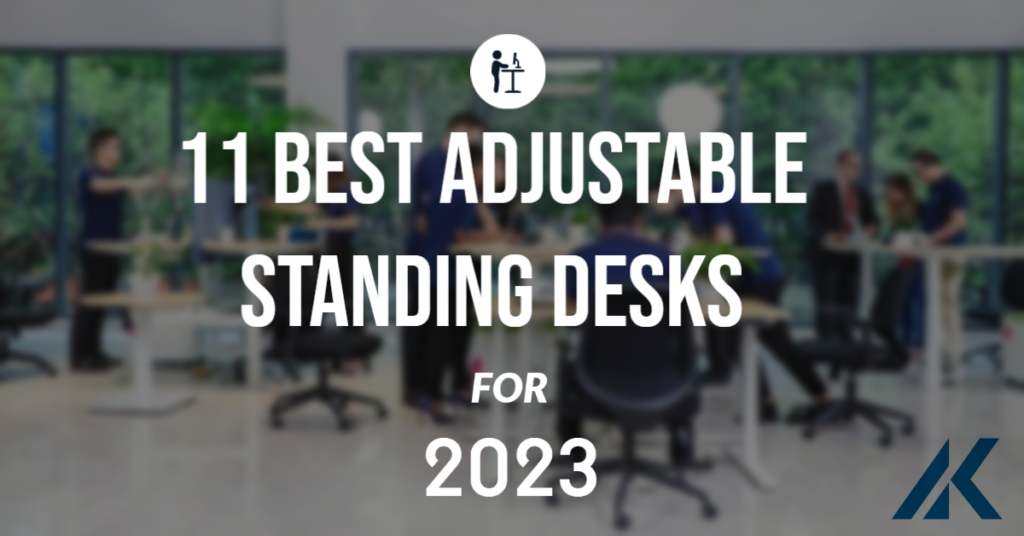 The Best Standing Desks You Can Buy Today
· Best Overall Standing Desk: Vari Essential Electric Standing Desk
· Best Large Standing Desk:FlexiSpot E7Standing Desk
· Best Adjustable / Lluxury And Most Customizable Standing Desk: Uplift V2 Standing Desk
· Best Eco-Friendly Standing Desk: Fully Jarvis Bamboo Standing Desk Standing Desk
· Best Mobile Standing Desk Standing Desk: Seville Classics Standing Desk
· Best Programmable Standing Desk: Autonomous SmartDesk Core Standing Desk
· Best Corner Standing Desk (A Smaller Desk With Plenty Of Pint-Sized Power): Friska Stockholm Corner Standing Desk
· Best Manual Standing Desk With A Focus On Eergonomics:Ergotron WorkFit-D Standing Desk
· Best Budget Standing Desk: Ikea Trotten Standing Desk
· Best Wood/Great for WFH Offices And Ccommercial Spaces Standing Desk: Branch Standing Desk
· Best All In One Standing Desk: AOKE Bluetooth Speaker Standing Desk
1.Vari Essential Electric Standing Desk
Pros
Extremely stable design
Programmable controls
Custom colors and designs
Cons
Lack of keyboard tray
Higher priced models
Nasty crossbar
Suitable for the crowd: People who need something sturdy and stylish to support small to medium sized workstations
Not suitable for the crowd: people who want a standing desk with more weight-bearing capacity and require a large space area
Reasons to buy
Intuitive assembly process
Available in a variety of finishes and sizes
Excellent cable management features
Supports weights up to 200 lbs (90.7 kg)
Reasons to avoid
Cable management trays require additional cost
More Details
At $795, the Vari Electric Standing Desk is pricey, but is still supported by many reviewers as the best overall standing desk.
In terms of desk size, the options range from 48″ or 60″ long desktops with a 30″ width and a relatively large footprint. It provides ample desktop area and a 200-pound weight capacity, it can easily accommodate a dual-monitor work setup using a monitor arm and virtually any other office accessory or desktop option you need, and it operates at less than 45 decibels. It's ideal for people up to 6'6″ tall – adjustable frame heights from 25″ to 50.5″.
In addition, the desk is really easy to install. vari claims that the installation process takes only five minutes. In fact, someone does need to help move the top of the desk onto a flat surface for installation, while making sure the surface is cushioned to avoid scratches. Finally, the finished desk is then turned over.
In addition, The Vari Electric Standing Desk is available in five colors and stunning wood finishes such as Butcher Block, Reclaimed Wood and Darkwood.
2. FlexiSpot E7 Standing Desk
Pros
Plenty of customizable options
Spans up to 80 inches wide
Sturdy and durable table top and legs
Cons
The more you add, the more expensive it gets
Installation process is a multi-person job
Suitable for the crowd: People who can benefit from a spacious work surface and extra storage space
Not suitable for the crowd: people who struggle with the complexity of assembly
Reasons to buy
Build quality
Overall functionality of the desk
Electric desk legs
Integrated wireless charger
Reasons to avoid
Cannot move the integrated wireless charger
More Details
FlexiSpot is one of the more reputable home office brands out there, and the E7 is a fully customizable, parts-pickable motorized standing desk that we think is also one of the best versatile options on the market. For example, you can upgrade the furniture with cable management cords, use the side drawers to hold tools, or even use the W1 casters to improve mobility.
The process of setting up the desk depends on the size and the number of spare parts you purchase. the Flexispot E7 is a quality height adjustable standing desk that is competitively priced for this impressively curved workspace.
The E7's anti-collision system keeps your desk and what's around it safe. the motor on the E7 is particularly powerful, but slightly noisy. It uses thicker leg posts. In addition, the column gap is scientifically designed to be 0.05mm, which is the optimal setting for the phase movement of the column, just right for smooth movement. the base structure of the E7 is made of solid carbon steel, which is automotive material grade, durable and sturdy. This table can lift 161 kg (355 lbs) confidently and safely.
Integrated cable management and the ability to add more is a very nice upgrade from the previous version of this desk, the E7b. One of these upgrades is the integrated wireless charger on the left side of the desk, which provides convenience for people, but the inability to move this integrated wireless charger has also caused problems for some people.
3. Uplift V2 Standing Desk
Pros
Three-stage, dual-motor frame
Up to 80 inches wide
15-year warranty
Cons
Lower quality electronics
Complicated to install
Lack of cross support system
Suitable for the crowd: people with a lot of office equipment who want to invest in a top-of-the-line desk that can be heavily customized
Not suitable for the crowd: people who only want to use a standing desk occasionally
Reasons to Buy
Superior build quality
Smooth and quiet motor
Large selection of sizes and colors
Many mounting points for accessories
Reasons to avoid
Expensive international shipping
More Details
The Uplift V2 standing desk is one of the best standing desks known far and wide. It comes with a high price tag, but the added comfort, convenience and customizability give you a real bang for your buck.What makes the Uplift V2 stand out is its sturdy, functional design and endless customization options.
The height of this desk can be adjusted between 25.3 and 50.9 inches, but there is also a commercial version of the V2 frame that lowers the desk by 2 inches, bringing the height range to 23.5 inches to 50.9 inches. The desk can be a bit wobbly on the way up, especially when extended to higher levels. However, the Uplift is stable thanks to the built-in stabilizing brackets.
In addition, the Uplift V2 is equipped with dual motors, which means the desk can change height quickly with smooth and quiet movements, and it features anti-collision technology. the Uplift V2 and V2-Commercial standing desks feature 3-stage legs that move 33% faster than a typical desk frame and can easily lift up to 355 lbs.
Uplift's customizable features are undoubtedly its most attractive feature. All models are 30 inches deep, but range in length from 42 inches to 80 inches. You can also choose to add wire grommets or power outlets to your desk, as well as choose the size and color of your desktop to suit your preferences, etc. The 15-year warranty speaks to its durability and ability to help you be more productive in the office for years to come.
4. Fully Jarvis Bamboo Standing Desk
Pros
Sustainable design
Great for tall users
Optional stand for mounting the monitor
Cons
Limited design
Can feel wobbly at high settings
Low quality of electronics
Suitable for the crowd: tall people, people who require the table's weight-bearing capacity, and people who focus on sustainable design concepts
Not suitable for the crowd: people who lack assembly experience and hands-on skills
Reasons to buy
Attractive
Can carry heavy objects
Lots of customization options
Reasons to avoid
Takes longer to assemble than other models
More Details
Jarvis' tabletop is made of bamboo, chosen for its natural beauty and quick renewability. In addition, Jarvis is shipped in 100% recyclable and EPE-free packaging.
The Full Jarvis Bamboo Desk will be a firm choice for anyone's home office.Jarvis Standing Desk, designed to promote health and exercise, Jarvis encourages different sitting and standing postures during the workday with a customizable setup. The height of the bamboo desk can be easily adjusted with the push of a button on the upper and lower touchpads or the OLED programmable phone. With the option of a power grommet, you can easily charge your devices on the tabletop. It is well constructed with two circular cutouts at the back of the desk through which you can lay cables, etc. In addition, it can hold up to 350 pounds, making it difficult for the average user to overload.
The Full Jarvis bamboo desk has an adjustable frame with generous dimensions and is recommended for people who are 5'1″ to 7'1″ tall. Customizable widths of 30 inches to 72 inches and depths of 27 inches to 30 inches help you find the best fit for your work style and space. (Note that the default "two-part" frame configuration on Fully's website is recommended for people between 5 feet 10 inches and 6 feet 9 inches tall, but the most selective option requires an additional $20 for the "three-part" frame with a larger height range! ).
The Fully Jarvis desk takes about half an hour to get up and running, mainly because unlike some semi-assembled desks where the partial support frame is already installed at the bottom of the desk, only the legs and feet need to be installed. In addition, the Fully Jarvis desk comes with three Allen wrenches in the toolbox, and you will also need to prepare your own Philips head screwdriver.
In addition, you can choose from different frame colors to best complement your home or office decor.
5. Seville Classics Mobile Desk Cart Standing Desk
Pros
Ergonomic design
Easy to carry
Great for working on the go
Cons
Not suitable for extended use
No frills or extras
Very low load-bearing capacity
Suitable for the crowd: people who work standing for a few minutes at a time throughout the day and want a small footprint
Not suitable for the crowd: people who work long hours and want an electric standing desk
Reasons to buy
Lightweight and versatile
Compact and easy to move
Simple, sturdy construction and convenience
Inexpensive
Reasons to avoid
The height in the description is misleading and the weight-bearing capacity is low
More Details
This is a truly inexpensive version of a standing desk. It has a 23.6″ x 16″ wood desktop. The height can be adjusted to anywhere from 20.5 inches to 33 inches high. You do need to use a twist-lock knob to manually adjust the height, which can make it a little tricky to switch back and forth between sitting and standing. The desktop is 23.75 inches wide and 16 inches deep; it fits almost any size laptop. With four 1.5-inch casters (2 lockable), it's sturdy and allows your desk to go where you go. If you're just looking for something so you can stand and work for a few minutes at a time throughout the day, then this may be the perfect choice for you.
This is a particularly compact and easy to move laptop desk, and while it is advertised as a laptop cart that can also be used on a couch or bed, many reviewers vouch for its efficacy as a standing desk. I was looking for a standing work desk, but I don't like anything big or heavy because I don't expect to be on my feet all the time," wrote one reviewer, adding, "It's light and versatile.
The table is easy to assemble. The problem it has is that it wobbles a bit while typing, although it doesn't affect typing. Because the maximum weight capacity is 15 pounds, you can't put your body weight on the table. Nevertheless, this $89 desk makes it an affordable option for many users.
6. Autonomous SmartDesk Core Standing Desk
Pros
Great for standing or sitting
Comes with a base
The surface of the table is scratch-resistant
Sturdy and easy to move and control
Cons
No anti-collision feature
Suitable for the crowd: people of average height
Not suitable for the crowd: the shortest or tallest people, treadmill table users
Reasons to buy
Style, frame and top color available
Comes with cable organizer
Reasons to avoid
Unstable when going up to the top, more expensive than previous products
More Details
SmartDesk Core is available in different frame colors (white, black, or gray) and three desktop sizes. 43″ x 23″, 53″ x 29″, or 70.5″ x 30″. The classic size is 53 inches x 29 inches x 1 inch in length, width and height, respectively. If you want more desktop space, you can choose the extra-large top, which is 70.5 inches by 30 inches by one inch in length, width, and height, respectively. Depending on the size you choose, laminate desktops are available in up to six colors, and all sizes have at least one pre-drilled grommet hole.
The default keyboard on this electric desk is programmable with up to four preferred settings – a nice touch, although adding programmable presets will cost a little extra to upgrade the keyboard.
The height of the desk is a minimum of 29.4 inches and a maximum of 48 inches (a smaller range compared to some other desks, so if you are shorter or taller than average, be aware of the size range).
This desk has a height range of 29.4″-48″ (with top) for the single-stage legs. This 18.6″ travel is naturally shorter than what you'd find on a dual-stage base, which is typically 25″-26″. The 29.4″ minimum height is not ergonomic for many shorter people. Considering the instability when lifting and the high minimum height, the combination yields that the SmartDesk Core is only suitable for medium-sized people. Also, we do not recommend this desk for tall users and treadmill desk users.
Also, in terms of overall quality, the powder coated top to the thin steel makes the desk look a bit cheesy. And the assembly of this desk may be a bit difficult for novices.
7. Friska Stockholm Micro Standing Desk
Pros
Excellent build quality
Extensive customization services
Anti-collision sensors
Cons
Two sets of assembly instructions available
Suitable for the crowd: students, professionals and PC gamers
Not suitable for the crowd: Individuals outside the UK who want to buy
Reasons to buy
Wide range of customization and optional accessories
Robust and high quality
Easy to build and operate
Reasons to avoid
High shipping costs, except in Europe
More Details
Friska Stockholm Micro is a petite standing desk that offers a wide range of customizations and optional accessories. The top measures approximately 40 x 23 inches / 100 x 60 cm. Friska Stockholm Micro is an excellent choice for students, professionals and PC gamers. In addition, its smaller size also makes it a great choice for children or teens, as it adjusts to the height of the desk to fit their height as they grow, with an adjustable range of 25-50 inches/64-127 cm, and is stable even when the table is raised to its highest.
With a maximum weight capacity of 264 lbs / 120 kg, it can easily support a fully mature adult. And the basic model of this table is also equipped with anti-collision sensors to prevent damage to anything when lowering the desk onto other objects.
The Friska Stockholm Micro is easy to operate, especially in its basic configuration, which includes only a single up/down button. The dual motors are described as "whisper quiet", which we don't think is accurate, although the noise isn't unbearable. In fact, it's around 38 decibels. In addition, the desk's cable clamps are included underneath the desk and they do a good job of hiding the mess of cables leading from the motors.
Pricing for the Friska Stockhold Micro desk is $840 [£779/AU$1,350]. Shipping to the UK is free and exceptionally fast, allowing for next day delivery if you order by 2pm. Unfortunately, shipping to the U.S. requires you to contact Friska due to the higher cost, although the company does mention that it has plans to establish a shipping operation within the U.S. at some point in the future.
8. Ergotron WorkFit-D Standing Desk
Pros
Easy to assemble
Build quality is very good. Adjustment was easy and everything feels very solid.
Keyboard attachment (sold separately) is very solidly made with plenty of room for adjustment
Smooth adjustment, spacious work surface
Assembly is very well thought out, with each part in a separate, clearly labeled compartment in a plastic bag
Cons
Some bolt holes are poorly tapped
Work surface is too unstable.
Some confusing assembly
No cable management tray available
Suitable for the crowd: people who prefer manual stand-up tables
Not suitable for the crowd: those who require neat table storage
Reasons to buy
Effortless lifting
Easy to adjust from a sitting to a standing position
Brake stop screw
5-year warranty
Reasons to avoid
Visible brake cable
No cable management tray
More Details
If you don't want to add wires to your workspace (other than visible brake lines), then the Ergotron WorkFit-D may be the perfect solution for you. You can raise or lower your desk with just one lever on the lower right side. Thanks to its brake cable system, this desk can be raised or lowered faster than many electric standing desks.
The Ergotron WorkFit-D is available in one configuration with a width of 47.6 inches, a depth of 23.5 inches, a minimum height of 30.6 inches and a maximum height of 50.6 inches. The desktop itself has a smooth laminate surface and is available with either a walnut or birch desktop.
The Ergotron WorkFit-D Sit-Stand Desk meets almost everything one could want in a manual standing desk. And WorkFit-D uses a patented mechanical lifting system rather than cranks to raise or lower the desk.
While Ergotron recommends not exceeding 65 lbs (29.5 kg), the desk can hold up to 165 lbs (74.8 kg), so it can be easily lifted and lowered. Each leg also has two compartments on the back with a bolt that can be loosened or tightened depending on the weight of the equipment placed on the desk.
Note: Ergotron requires installation of its own cables. the Ergotron WorkFit-D sit-stand desk is available at Amazon's Ergotron store for $908 if you choose a walnut desktop and $975 if you choose a birch desktop. However, if you go to Ergotron's website and click on the "Find a Reseller" button on the desk product page, you'll find it's also available from Staples, Zones, Connection, Insight, ERGODIRECT, and CDW for significantly cheaper.
9. Ikea Trotten Standing Desk
Pros
Simple, clean design
Smooth cranking mechanism
Cons
Low customization options
Can't support as much weight as other standing desks
Suitable for the crowd: People who work primarily with laptops.
Not suitable for the crowd: People who have a lot of peripherals and cables to manage or people who want an electric standing desk.
Reason to buy
Looking for a basic, no-frills standing desk at the right price.
Reasons to avoid
Lack of personalization features and relatively low load capacity
More Details
When you need a larger standing desk, but don't want to spend too much money, the Ikea Trotten is a great choice. This simple sit-stand desk will meet basic needs. In addition, the Ikea Trotten is priced at $249. You can get the table top in beige or white and choose from white or black legs. A larger model, with a 63×31.5-inch tabletop, retails for $279.
This is not a power standing desk, so you'll have to raise and lower it manually; it's also available in a limited range of colors and sizes.
This is a crank function standing table. While cranking the column requires more effort than pressing the buttons connected to the electric motor, it's still relatively effortless and hard to make you sweat over.
This standing desk is relatively easy to install, but it will require some help screwing in some stubborn hardware and turning the finished desk over when you're done.
The Trotten measures 47.25 x 27.5 inches. It has a sturdy, easy-to-clean work surface made of particle board and fiberboard, and a steel base for stabilizing the standing desk.
This adjustable standing desk has a relatively low weight capacity, but for most users, especially laptop users, the 110-pound capacity is more than adequate.
10. Branch Standing Desk
Pros
Quiet dual motors
Holds up to 275 lbs (124 kg)
Brushed grommets for wiring
Cons
Requires tools
A bit complicated to assemble
Legs are only available in one color
No cable management tray available yet
Suitable for the crowd: People who want a table that won't look out of place in their existing decor
Not suitable for the crowd: People who want a variety of additional accessories and features
Reasons to buy
Incredible range of height settings, and the company also offers white glove installation.
Reasons to avoid
Branch's in-table power accessories are a bit pricey and make it difficult to hide large power adapters from view.
More Details
Branch's standing desks are high-end in appearance. In addition, the company has a 30-day no-hassle return policy, but you need to have the original packaging to do so.
Incredibly sleek and modern, the Branch standing desk is an attractive standing desk that would look great in any home office. It is available in two sizes – 30×48 inches and 30×60 inches – with either a wood grain or white desktop. These desktops are not only handsome but tough. They're made of melamine, which is stain and impact resistant, so they handle normal wear and tear and the occasional coffee spill well.
Like the other electric standing desks that made it into our roundup, Branch standing desks have four memory presets that allow for a hassle-free transition between sitting and standing. To save a configuration, simply adjust the desk to your desired height, press and hold the "M" button until the display flashes, and then press the number key you want to assign. The branch has a weight capacity of up to 275 lbs. although they offer fewer add-ons than some competitors.
Note: while it is highly recommended to install a power strip on this standing desk, especially if you want to use a desktop computer and monitor, because the design of Branch's desktop power accessories makes it difficult to plug in devices with larger power bricks. While you can plug in larger power adapters, you won't be able to close the top door of the brushed recess when charging your laptop.
Pros
Stylish and unique product appearance
High-strength environmental protection wood table board
Wood color can be customized according to demand
One-piece table frame for easy installation
Cons
Drawer space restrictions
The sound quality of the built-in audio can not be comparable to professional audio
Suitable for the crowd: like music or all
Not suitable for the crowd: people who like large capacity drawer storage space
Reasons to buy
Multimedia and multifunctional stand-up table in one
Reasons to avoid
People who demand high sound quality for audio
More Details
Overall, this is a stand-up table that can meet all your needs, and a collection of multi-functional, multimedia in one electric adjustable height desk. Great for WFH offices and commercial spaces, this table will bring a new experience to your life and work – enjoy life and improve efficiency.
Since its establishment in 2012, AOKE has been dedicated to the research and innovation of ergonomic office equipment. We manufacture and sell the highest quality standing desks. Our mission is to end sedentary office postures, enhance workflow and create a healthy, comfortable lifestyle. Therefore, based on the traditional standing desk, AOKE has modified the general standing desk to meet more consumer needs.
At first glance, the AOKE standing desk looks stylish, and a closer look will reveal the level of craftsmanship. All of the materials feel premium that only comes from good engineering.
This standing table with built-in audio, can be more convenient with the computer or cell phone to play audio, which is fully in line with a new mode of contemporary work – play music to relieve the nervous pace of work. And AOKE summarized the feedback from some of our consumers who want the standing table to come with its own drawer. Therefore, this standing desk has a drawer at the front of the desk, and it uses a fingerprint lock or password to unlock it, which not only is convenient to use, but also better protects personal property and privacy. In addition, the new headphone hangers, touch control of lift and music playback, wireless charging, memory function and child lock screen are also practical considerations for consumers in the practical application. The table has been tested several times and is stable, sturdy, anti-collision, and easy to install. Putting it together is easy and it comes in a very nice package. The table frame is integrated, only two columns and feet need to be connected to complete the installation, which compared to the traditional standing desk also need to install the beam and hand frame, greatly saving time. In addition, the operation of this lift table is also very simple, there is a touch screen on the desktop, just simply press and hold the up or down arrow to make it up or down. Moreover, the lifting range of this standing desk is between 710-1170mm, with a lifting speed of 28mm/s and a maximum load of 60Kg, which can be used for general office needs.
Quite simply, a standing desk is a type of desk that allows you to work while standing comfortably. It is also referred to as a standing desk, a height adjustable desk, and a sit-stand desk. This category of desks is designed to improve your overall work performance and ensure that you are able to achieve your daily work goals without experiencing any bothersome physical strain. In addition, standing desks are custom designed with adjustable components in order to allow users of all shapes and sizes to find a customized, comfortable way to use them, and to make work life easier.
What Do You Need To Consider If You Are Buying A Standing Desk For The First Time?
Budget
Standing desks are not cheap, with a dedicated standing desk costing between $300 and $1,500. If your budget is reserved, you can try some of the more affordable DIY solutions to try out or choose a relatively inexpensive desk converter first. The complete electric standing desk conversion is finally available with the AK06-T04 Electric Standing Desk Converter. This smart, powerful, and adaptable converter gives you more height adjustability than ever before. And it offers you a variety of placement options for your laptop, notebook or tablet. When elevated to a standing position. The electric motor-driven lifting mechanism allows you to effortlessly raise and lower it in just a few seconds.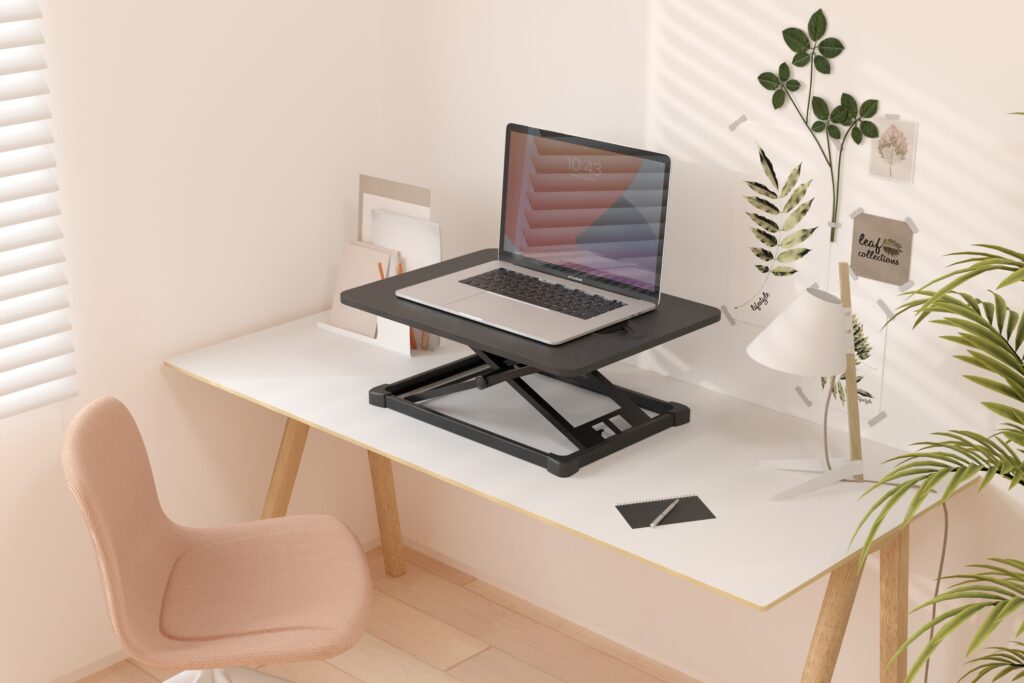 Manual, Pneumatic & Electric
Electric standing desks are a little more expensive compared to manual and pneumatic standing desks. However, they are worth it because you can automatically adjust the height that suits you by switching from sitting to standing at the push of a button.
Height and Size
Size and height are the two main factors that help ensure that the desk is the right fit.
Height
A good rule of thumb: When you're standing, multiply your height in inches by 0.6. When you're sitting, divide your height in inches by 2.5.
Size
Consider your own work situation; some users may need more surface space than the average person. If you need to use multiple monitors or an extra-wide display, take measurements beforehand to ensure the amount of space you need.
Stability
The stability of the desk will ensure that you work properly and that the equipment is not damaged.
Noise level
Some electric desks have loud motors, and high decibel levels can affect people's moods, especially during busy work periods. AOKE's motors are subjected to rigorous noise testing, and all of our products are within the acceptable range of human comfort noise.
Accessories
Some desks will offer additional accessories such as keyboard trays and cable management, which saves consumers a fortune in additional purchases needed.
Easy to assemble
All you need is a screwdriver and a little patience when it comes to assembling a standing desk. That's because many standing desks come with screws, an Allen wrench and an instruction manual. However, some desks are easier to assemble than others, such as AOKE's AK02-T08 standing desk, which requires only four steps to install: install the connection straps to the column; intall the columns to the tabletop; install the feet to the column; and connect the power cables. Very simple and straightforward!
Customization options
In addition to surface dimensions and materials, some standing desk companies will offer a variety of ways for you to customize your desk. AOKE offers DIY workspace where you can pick the accessories to assemble according to your own preferences and needs, and the finished product will be displayed to you in 3D. AOKE also offers ODM/OEM custom B2B product solutions.
Warranty
Each company has different warranty times.
Shipping time
Fast shipping is also important. It is recommended to contact customer support at checkout to further confirm the time, in addition to checking the estimated shipping date.
How To Buy The Standing Desk Like A Pro
Mechanisms
Standing desks are available with manual or electric lift mechanisms. The lifting mechanism determines several things: cost, ease of use, adjustability and noise level.
The electric ones are more expensive, but are convenient to use, raising and lowering the desk with the push of a button. Generally, electric lifts also come with programmable memory presets, which will remember your ideal height setting. They also tend to have a higher weight-bearing capacity. If you work with multiple monitors or bulky speakers electric lifts are your best choice.
Manual lift desks are better for those with a smaller office setup or those who want a more portable standing desk. Manual sit-stand desks are usually operated in two ways: a crank type, where the user operates a hand-held crank under the desk to manually raise or lower the height of the table; and a pneumatic lift type, where the pneumatic adjustable height standing desk operates completely without electricity, but instead uses an air cylinder that compresses and expands at startup to raise and lower the desk surface. This movement is fast, smooth, and as quiet as air. In addition, crank models are better suited for heavier setups on the job, while pneumatic lift models are often used with lighter setups.
Features
Many manufacturers offer additional features and customization services to further optimize your office setup. Power grommets are an important convenience factor, allowing you to charge your phone, headphones and other accessories from your desktop.
They are also a way to eliminate sagging cords that can look cluttered. In addition, a more affordable way to keep your desktop free of unsightly cables is to invest in a desktop cutout for your desk, or a cable organizer that runs cables across your desk or hides them underneath your desktop. Many companies also offer accessories that are compatible with their standing desks, such as hanging baskets and hooks.
Size
A standard standing desk will typically have a depth of about 30 inches. Users are able to place a laptop computer on the desktop in front of the monitor. If you have a greater need for desktop utilization space, measure the ideal desktop size when choosing.
Which Standing Desk Is Best For Me?
With so many different sizes, shapes, colors and finishes of standing desks on the market, it can be a bit confusing to figure out which desk to invest in.
If you're stuck in an awkward corner of the room, or if you deal with multiple monitors on a daily basis, an L-shaped desk is definitely the way to go.
The L-shaped design creates the perfect corner desk: large enough to hold everything you need to get your work done, with a custom style that makes you look good at work. The two modular sections are twice as spacious as our regular smart desks. Switch the shorter side from the left to the right for a perfect fit in any corner. AOKE's AK03-T03 90 standing desk is powered by a powerful three-motor system, with three motors working together for a combined drive to give you a more solid experience. When you install the standing desk, you will see and hear the difference with its sturdy iron legs that comfortably lift up to 330 lbs. You can place your desk setup with confidence without worrying about being overwhelmed. 40mm/sec lifting speed allows you to switch between standing and sitting positions more smoothly and steadily. Use the responsive keyboard with 3 preset buttons. With one easy press, you can raise/lower to the remembered height. In addition, a simple up/down button adjusts the height of your desk. You can automatically glide into place with just a touch. This lift desk also has 2 USB ports for charging your phone whenever you need it.
AK03-T03 90 standing desk, your ideal L-shaped corner desk.
Other Questions You May Ask About Standing Desks?
How long should you stand at a standing desk?
Jack Callahan, a professor in the Department of Kinesiology at the University of Waterloo, suggests that you will get real health benefits from using a standing desk by standing for 45 minutes every hour of an eight-hour workday. However, health experts suggest that each person also needs to calculate their own standing time based on their height and weight.
Does standing reduce belly fat?
Data show that standing for more than six hours a day can prevent weight gain. Standing can help you burn 0.15 more calories per minute than sitting. But in order to reduce belly fat, you also need to combine diet control and exercise.
Is a standing desk good for back pain relief?
Using a standing desk can help relieve your back pain by improving your posture. When you stand, you may occasionally take a few steps and change your posture, and people usually maintain a better posture when standing, all of which will reduce your back, shoulder and neck pain.
Is it better to work standing or sitting?
Sitting all day can cause muscle tension and pain in your neck, back and lower back; standing all day, on the other hand, can lead to pain in your legs and cause other health problems. So, a combination of sitting and standing will work perfectly for you.
Is standing bad for my knees?
Standing for long periods of time can put stress on your legs, knees and lower back. It can also lead to some serious problems like varicose veins, joint damage, etc. Depending on your situation, you can divide the time spent standing and sitting wisely.
Take Our Word for It And Contact Us
AOKE is a global designer and manufacturer of linear actuators, lifting columns, height adjustable desks, mobile pedestals and other ergonomic accessories. Since 2012, we have been developing, manufacturing and marketing high quality ergonomic office equipment related products.
In addition, AOKE established R&D center to strengthen R&D innovation capability, our products are produced in a safe, efficient and process-driven manufacturing environment, so our products and services are trusted by many customers around the world, and have received system certifications such as ISO9001, ISO14001, GECA, and passed CE, UL962, BIFMA, FCC, ROHS, EN527, EMC, CAS, SAA, CB, PSE, GECA and other certifications and compliance support.
If you are interested in ergonomic office equipment, or if you would like more information about our products, please feel free to contact us!