As mentioned many times in our previous articles, hunching over in front of your computer for extended periods of time can damage your health and increase your risk of neck and spine pain, obesity, and cardiovascular disease. When you are a working person who sits all year round, you need to have a healthy and efficient workspace. The emergence of equipment such as standing desks has made it no longer difficult to realize the alternate working method of standing and sitting. So what if you already have a desk you're satisfied with and don't want to replace it? A more lightweight and flexible standing desk converter will help you transition smoothly from your usual desk to a standing desk.
What Is A Standing Desk Converter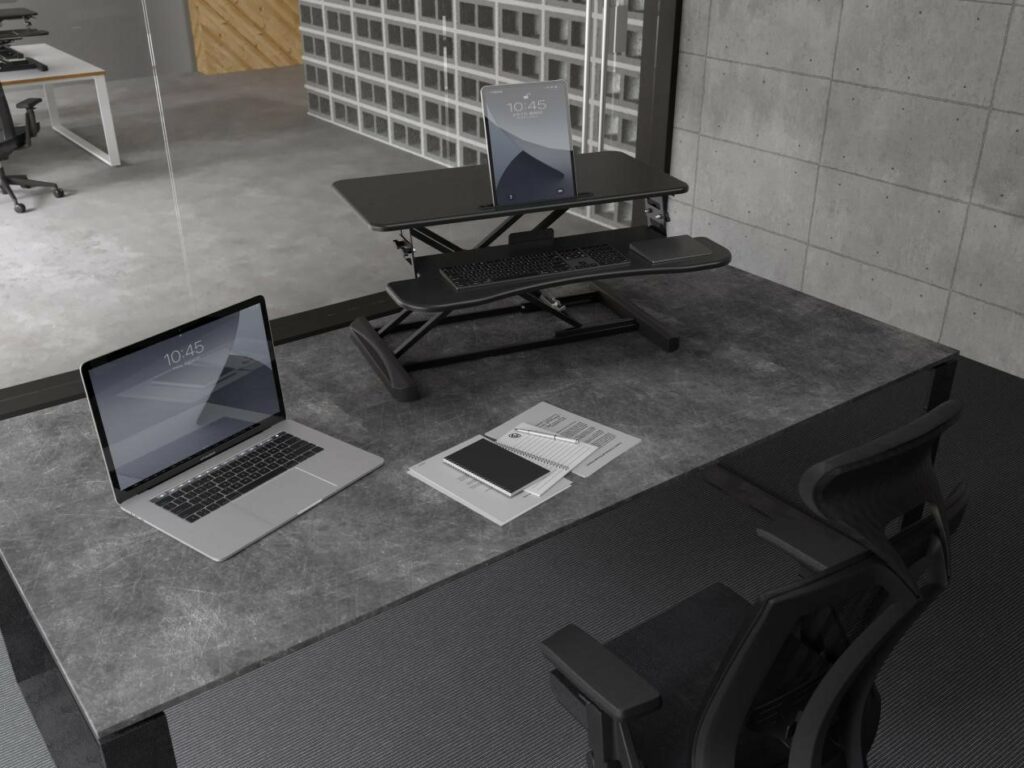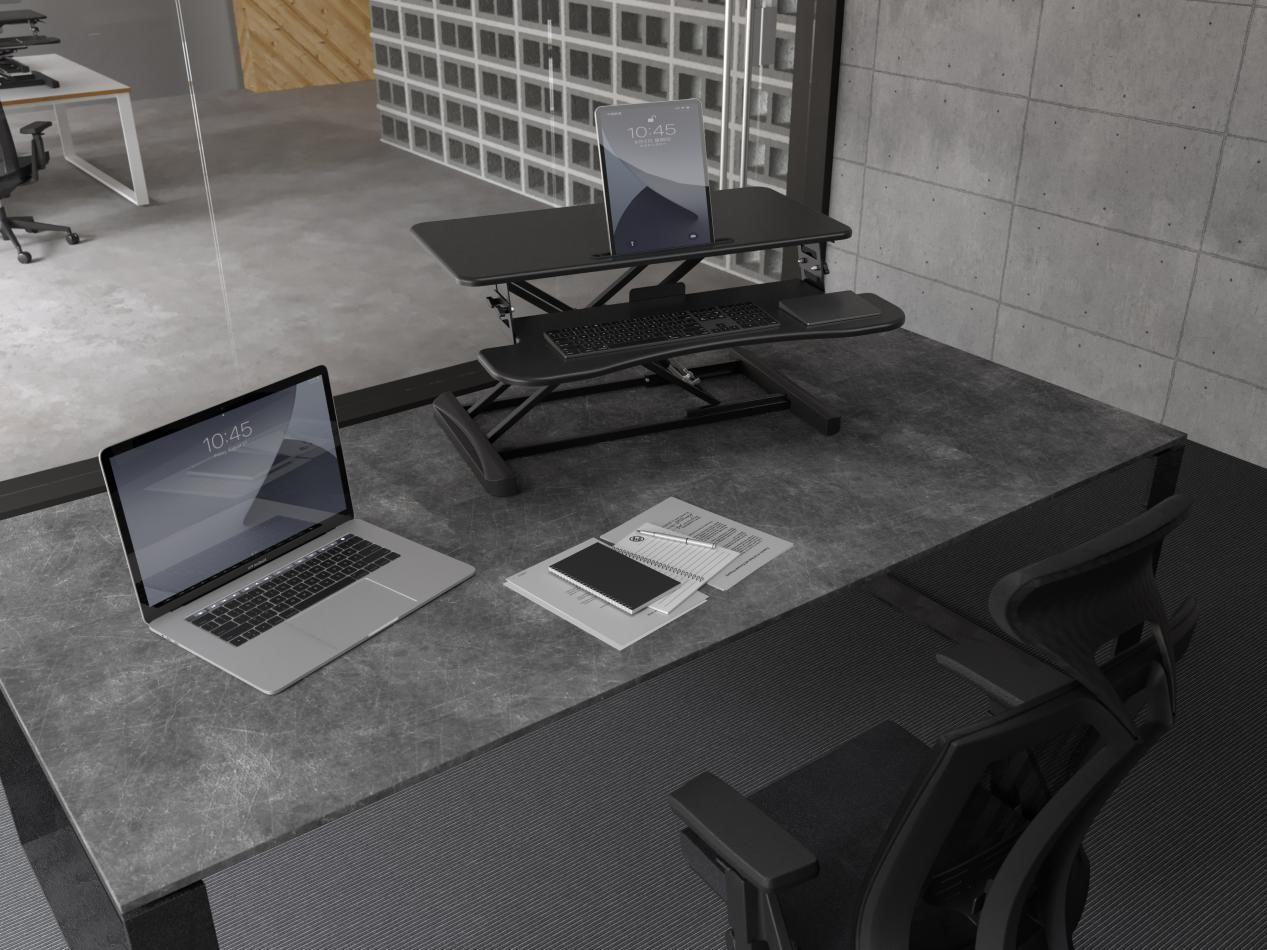 The standing desk converter is a small height-adjustable mechanism that you can place on a traditional desk to turn it into a standing desk. For many people, this may be a more affordable option, enjoying the health benefits of a sit-stand lifestyle without significantly changing the layout of your workspace.
The converter can be raised and lowered in seconds. You can also decorate it further using a keyboard tray, monitor arm, laptop mount, or anti-fatigue desk mat for greater neck and back support.
Small and portable, easy to install, and even use it straight out of the box, allowing you to extend your ergonomics beyond the confines of the office and work healthily anywhere.
Standing Desk Converter Types
When looking for the best standing desk converter, you can choose between six general types. Each type has its own pros and cons. Therefore, you can decide based on the functional and aesthetic requirements of your office needs. The six general types include: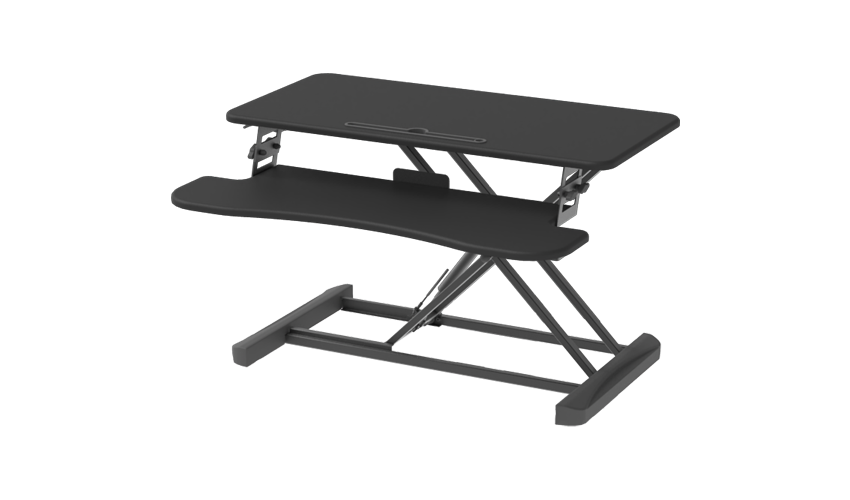 The X-lift standing desk converters are the most common and budget-friendly type of standing desk converters on the market. Based on the X-pattern, this type has the advantage of moving vertically rather than outwards toward you during adjustments. Therefore, they offer greater stability. They are designed to withstand greater weight due to their robust construction. They also offer larger worktops, which means you can accommodate a set of screens, such as a laptop and a monitor on the counter, for greater utility. The X-lift standing desk converter often comes ready assembled. The X-shaped design ensures that users can use the device at different heights without having to deviate their posture. The downside of this is that if you don't hold it correctly while adjusting the height, the X-shape introduces pinch points and finger risk.
The AK-MR-P22 Standing Desk Converter has a lift mechanism that stands out from its competitors. Its high-powered gas springs offer a smooth transition from sitting to standing. it can be infinitely adjusted within the range of 4.7-19.8 inches. and there is no preset height. A stable and braced X-lift structure provides one with a weight capacity of around 33lbs. Even under maximum load, the chances of this desk dropping from its position are close to none. It offers great value for money and is easy to set up, comfortable to use, and works for almost all work from home or office setups.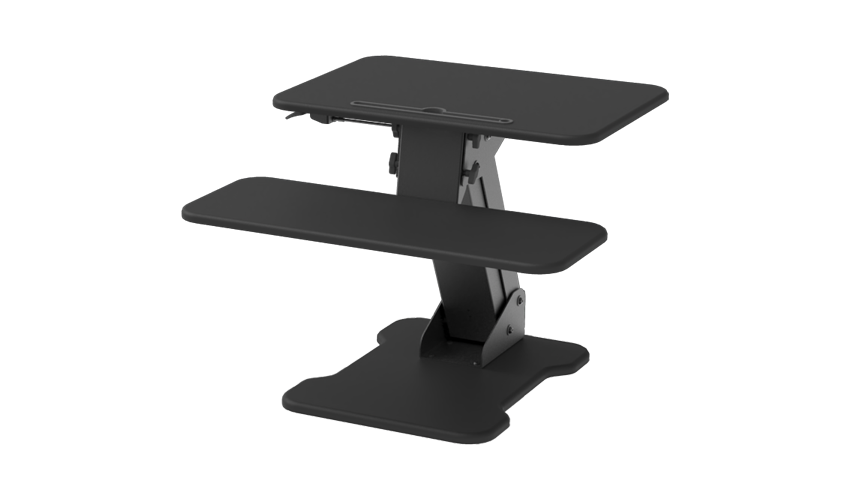 The Z-lift standing desk converters are the most popular type of standing desk converters on the market. They are sister products of the X-lift converter and are similar to X-lift in their name hints towards their architecture. The Z-shaped design is more minimalistic, with a large upper-level workspace accommodating multiple screens. A deeper workspace ensures proper eye-screen distance. The downside is their bulky base, takes up more desk space. Inherent pinch points and difficulty to lift, and moves forward when lifted, creating a tipping risk.
The AK-MR-P23 is a high-quality pneumatic standing desk converter with a Z-shaped structure design. The curved lifting track is more flexible with the gas strut design, just press the handlebar to easily adjust to your comfortable height. The large and flat surface can effectively hold up to 10kg of office supplies.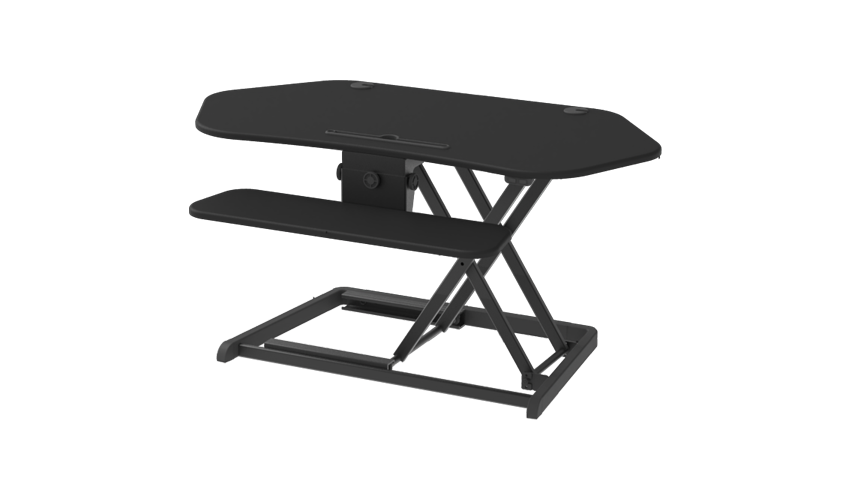 The corner standing desk converters can easily turn your L-shaped desk or corner cubicle into a standing desk. They are structured in a similar architecture to the X-lift and Z-lift, however, the key difference is their emphasis on efficiently using the space at the back of a corner desk. The primary benefit of this is that you have a larger work surface area for extra storage and weight capacity.
The AK-MR-E04S Standing Desk Converter is designed for corner desk applications, making your workday more productive with a desk that fits large single or dual monitors and boasts an oversized keyboard tray. Easily adjust between sitting and standing positions without bumping into cube panels or office walls. This model also works for a standard desk.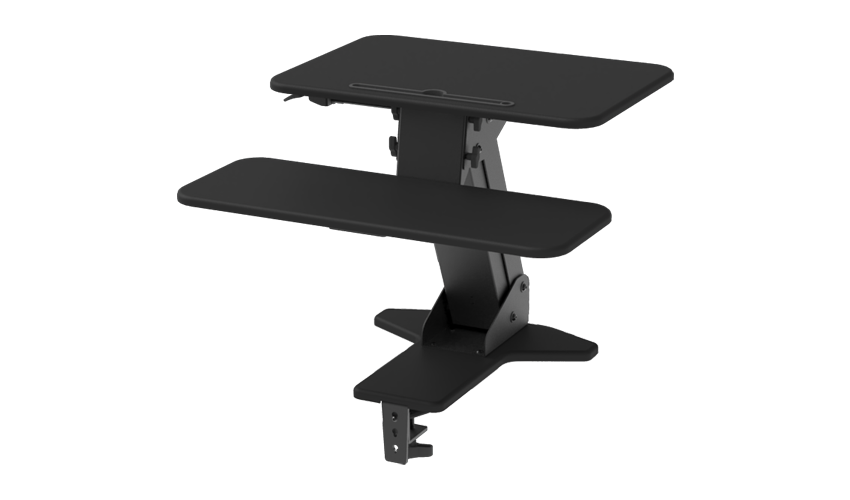 The post and base converters have a sturdy pillar that holds a workspace and screen separately and offer built-in screen adjustability for positioning your monitor at the ideal heights and angles without purchasing an additional monitor arm. Compared to the X-lift and Z-lift sit-to-stand desk converters, these desk converters generally take up less footprint. But since the workspace lacks a locking mechanism, it may wobble when in use, especially if you intend to use dual monitors. In addition, tends to be more expensive than the two models mentioned above due to their built-in screen adjustability and sophisticated ergonomic features.
The AK-MR-P24 is one of the best post and base-standing desk converters in the market. This standing desk converter is a perfect option if you've got a limited workspace or a small cubicle. Make the most of your space with this standing desk converter.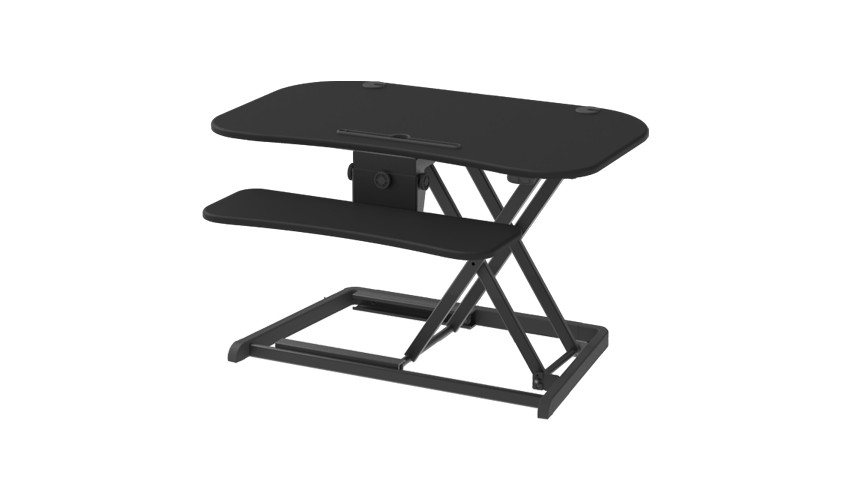 The electric converters give standing desk converters ease operation of a complete standing desk. The electric assistance also makes these great for multiple monitors and heavy computing setups, allowing you to easily switch between sitting and standing throughout the day. In addition, they usually have a high weight capacity and other beneficial features. These are a great option if you're on a higher budget and want the ease of use of a standing desk.
The AK-MR-E03S is designed to be stylish and convenient. This Electric Standing Desk Converter is known for hassle-free transitions using a lift motor system, which can be adjusted at the touch of a button. If you're looking for hassle-free adjustments, this model is perfect for you.
Hover Adjustable Desk Converters
The hover converters are essentially monitored arms with workspace attachments. If you often need to share your screens with your co-workers, a hover standing desk converter is an ideal option. Its platform hovers, so you can easily swing it around when you need to show documents or reports to your colleagues. Although hover converters take up minimal desk space compared to all the other sit-stand desk converters mentioned in this article, it often causes the monitor or keyboard to wobble while typing, and we don't recommend it for stability concerns.
Summary of Standing Desk Converters
The standing desk converter can be the perfect solution to reduce cervical spine problems and increase productivity. As more and more people work from home, we often find ourselves confined to a bedroom table or an uncomfortable kitchen chair. The health and productivity benefits of standing desks are well known. Standing desk converters allow you to get the benefits of a standing desk without overhauling the basic furniture in your office (or home). These converters come in many forms, and before you invest in standing desk converters, it's best to develop a strategy based on your workspace.
If you're on a budget, you can consider Aoke's Pneumatic Standing Desk Converter, such as the model AK-MR-P13-2. If your work surface is not large, you may want to consider a model with a smaller footprint, such as the AK-MR -P24. However, if you have a large desk, or frequently work with multiple monitors, our larger models, the AK-MR-E01D or AK-MR-E01T, may serve you better.
For more product details, please feel free to consult Aoke's customer sales team Alice@aokefurniture.com or visit our official website https://www.nbaoke.com/.