L Shaped Standing Desk Frame
---
If you feel that the double-leg sit stand frame cannot meet your needs, you can take a look at this series of bases, l shaped standing desk frames. Use this frame with the desktop, then you will have enough space to put more office supplies to work more efficiently and comfortably.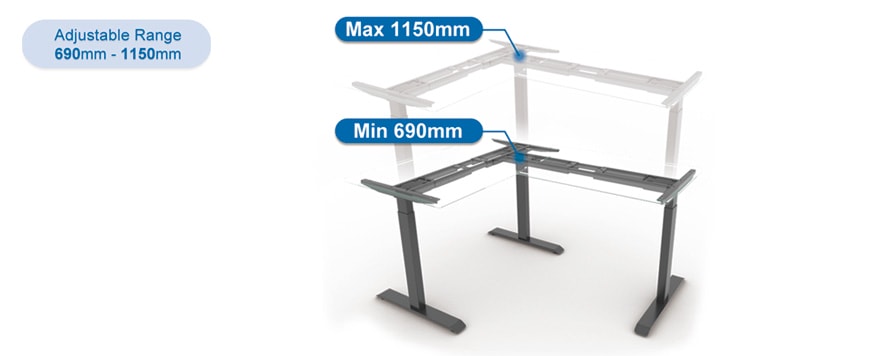 Aoke aims to provide world-class stability, safety, and reliability of standing desk frames for global users. The height adjustment range of our 3-stage leg table frame is 640-1290mm. Each product is equipped with a fast and stable lifting system, one-button operation, and 3 motors.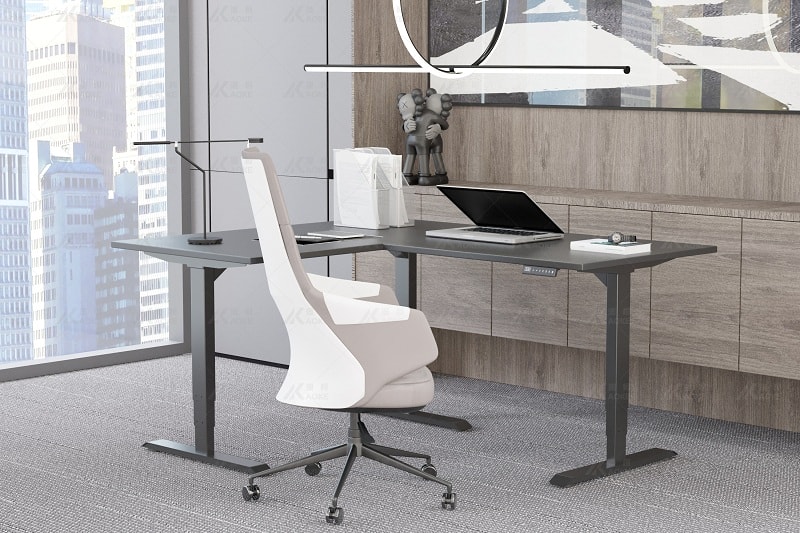 When you need more working space, Aoke's l shaped sit stand desk frame can meet your needs. Not only does it have a larger desktop, but it can also easily support a weight of up to 150 kg. Each steel leg has its own motor, which can ensure that the height of the table frame can be adjusted quickly and smoothly. When you want to adjust the desk height, you only need to press and hold the up/down button or press the number button which has been preset height, and then the standing l desk frame can automatically raise and lower the height.
The height-adjustable desk frame is the basis of an ergonomic workstation, so from now on, use the corner desk frame to create your ideal desk and improve your work efficiency. Buy our L-shaped adjustable table frame and match it with your favorite desktop, you can match a variety of DIY sit stand desks, including the installed CPU bracket, keyboard tray, monitor arms, and other accessories.
Aoke has 10 years of l shaped and corner standing desk frame manufacturing experience. All our products have undergone strict quality inspection before leaving the factory to ensure that the standing desk frames can be used for more than ten years. Our motor can stably control the lifting and lowering of the table frame, without shaking, and with low movement noise. If you want to know more information about our products, please send us an inquiry in the form below, and our salesperson will reply to you within 24 hours.
---
LEAVE A MESSAGE
CONTACT US NOW
If you have any questions, please get in touch with us right away. We are ready to assist 24/7. We welcome your cooperation and we will develop with you.
Factory-direct Connectivity Solutions.
High quality, Competitive Price.
Custom-tailored solutions.
Problem-solving approach.